Chattahoochee River E-Coli ct.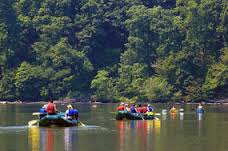 Click here for Daily River info …

With the recent scattered rains sending unsafe runoff into the Hooch, the water quality is changing constantly. When it rains, problems occur with septic tanks overflowing, and storm water /  sewer lines that spill in to the river. That in turn floods the river with bacteria like E. coli. It's a bacteria that can cause digestion problems and, in high amounts, death.
The E.P.A. says a E. coli count of ..235..is considered SAFE
Water samples are taken four times a week from Medlock Bridge and Paces Ferry and tested at the U.S.G.S. lab in Norcross. There, USGS employees treat the water, and let the E. coli cultures incubate.
The National Park Service recommends avoiding water that has more than 236 E. coli colonies per milliliter, which can put you at risk for diarrhea, fever, nausea, ear and nose infections, and worse. But E. coli levels along the stretch of the Chattahoochee tested by the U.S.G.S. routinely soar above those levels.
However it is VERY important to note that with RAIN chances daily the levels will change daily…Use the link above to check water quality before you go in the river!  As always after a couple of dry days, the bacteria levels will have came back to normal and be safe to play in.
You should also note that the E. Coli levels reflected in the article are a prediction based on Turbidity levels at the National Park Service gauges at Medlock Bridge and Paces Ferry. The warnings are issued by the National Park Service. According the the EPA, it has been determined that E. coli bacteria counts above 235 colonies per 100 mL indicate that more than 8 people out of 1,000 who come into contact with the water may become sick. But it is important to remember that as E. coli counts go up, it is the chance that someone will get sick that goes up – there are many other things that determine if a person will become sick:
 – how long someone is in contact with the water –if water come into contact with a person's mouth or eyes – if the person has any skin abrasions that will allow water to enter the body – the age and health of the person
Posted: March 27th, 2015 under Main Index, Urgent.